Back
Dr. med. univ. Tobias Welponer Fries
MD (Dermatology and Allergology) & PhD Student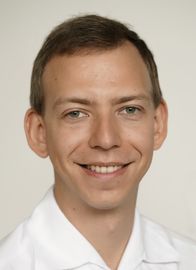 Contact
Research statement
My main scientific interests focus on the development of strategies to target epidermoylsis bullosa-associated skin cancer. Herein our primary goal is to improve overall survival in patients suffering from squamous cell carcinoma using antidiabetic drugs, antibiotics as well as special diets. Furthermore, we are investigating the effectiveness of several drugs and genetic therapies in providing symptom-relieving or disease-modifying properties with the goal of mitigating the severity of the disease, partly in cooperation with other EB centers. Development of validated and standardized measurement instruments to evaluate symptoms in clinical practice and clinical trials in cooperation with other EB centers.
Curriculum Vitae Tobias Welponer Fries
Professional Career
Since 2022
Senior physician in dermatology und allergology
Since 2022
Head of the outpatient clinic for genetic skin diseases
Since 2019
Member of the outpatient clinic for epidermolysis bullosa, EB House Austria
Since 2019
Member of the study center for epidermolysis bullosa, EB House Austria
2018 – 2020
Specialization in dermatooncology
Education
2016-2021
MD in training, University Hospital of Dermatology und Allergology of the "Salzburger Landeskliniken"
2010-2015
Study of human medicine, Paracelsus Medical University, Salzburg
International Research Experience
Scientific internship at the Department of Surgery, Yale School of Medicine, New Haven, CT, USA
Project: "The effects of serotonin on Na+/H+ exchangers and CFTR channels in distal colonic crypts of rats"
Supervisor: John P Geibel, DSc, MD, Professor of Surgery (Gastrointestinal) and of Cellular and Molecular Physiology
Additional Qualifications/Training
United States Medical Licensing Examination Step 1
Original Articles
Welponer T, Weber DD, Trattner L, Tockner B, Aminzadeh-Gohari S, Leb-Reichl V, Kaufmann A, Zauner R, Wimmer M, Wally V, Felder TK, Strunk D, Koller U, Bauer JW, Kofler B, Guttmann-Gruber C, Piñon Hofbauer J. Metformin shows anti-neoplastic properties by inhibition of oxidative phosphorylation and glycolysis in epidermolysis bullosa-associated aggressive cutaneous squamous cell carcinoma. Journal of the European Academy of Dermatology and Venereology : JEADV 2023
Hecker C, Welponer T, Herold M, Trinka E, Broussalis E, Killer-Oberpfalzer M. Update on treatment strategies for vasculitis affecting the central nervous system. Drug Discov Today. 2022 Apr;27(4):1142-1155.
Meyersburg D, Welponer T, Kaiser A, Selhofer S, Tatarski R, Handisurya A, Bauer JW. Comparison of topical benzyl benzoate vs. oral ivermectin in treating scabies: A randomized study. J Eur Acad Dermatol Venereol. 2023 Jan;37(1):160-165.
Welponer T, Brandlmaier M, Feuerstein B, Bauer JW. Identifying drug allergies by means of exposure testing - the frequency and nature of hypersensitivity reactions. Postepy Dermatol Alergol. 2022 Jun;39(3):632-634.
Welponer T, Diem A, Nahler G, Laimer M. Purified oral cannabidiol for pain management in severe recessive dystrophic epidermolysis bullosa. Indian J Dermatol Venereol Leprol. 2022 May-Jun;88(4):551-552.
Welponer T, Prodinger C, Pinon-Hofbauer J, Hintersteininger A, Breitenbach-Koller H, Bauer JW, Laimer M. Clinical Perspectives of Gene-Targeted Therapies for Epidermolysis Bullosa. Dermatol Ther (Heidelb). 2021 Aug;11(4):1175-1197.
Wortmann S, Welponer T, Laimer M. History of Repeated Bleeding from Intact Skin and Mucous Membranes: A Quiz. Acta Derm Venereol. 2021 Nov 17;101(11):adv00592.
Book Chapters
Korte EWH, Welponer T, Kottner J, van der Werf S, van den Akker PC, Horváth B, Kiritsi D, Laimer M, Pasmooij AMG, Wally V, Bolling MC. Heterogeneity of Reported Outcomes in Epidermolysis Bullosa Clinical Research: A Scoping Review as a First Step Towards Outcome Harmonisation. The British journal of dermatology, Volume 189, Issue 1, July 2023, Pages 80–90
Welponer, T; , Bauer, JW; Laimer, M; Epidermolysis bullosa; in: Lebwohl, MG; Heymann, WR; Coulson, I; Murrell, D; (Hrsg.) editors(s). Treatment of Skin Disease. Elsevier; p. 236-238. (ISBN: 978-0-7020-8210-8)
Since 2020
Contribution to the conception of the curriculum for the Bachelor/Master's degree program in human medicine at the Paracelsus Medical University, Salzburg
2017 - present
Lecturer and internship supervisor at the Paracelsus Medical University, Salzburg
Back to main navigation