Back
Michael Ablinger, MSc
Scientific Associate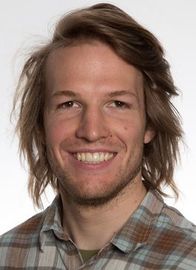 Contact
Research statement
As a scientific associate in the group "Small Molecules & Epigenetics" my focus lies on RNA and gene therapy, miRNAs and the identification and characterization of small molecules that might have a positive impact on the symptoms of EB.
.
Personal interests
I enjoy spending my free time in the nearby mountains.
Curriculum Vitae Michael Ablinger
Professional Career
Since 2015
Scientific Associate at the EB House Austria
Education
2014
MSc in Biology, Paris Lodron University Salzburg
2011
BSc in Genetics, Paris Lodron University Salzburg
Additional qualifications/training
2015 GMP course: Good Manufacturing Practice, Munich
2016 PACT summer school "Advanced Microscopy Techniques", Vienna
2017 Laboratory Animal Science- Basic course, Paris Lodron University Salzburg
2017 Transmission Electron Microscopy course, Paris Lodron University Salzburg
Original articles
Ablinger M, Lettner T, Friedl N, Potocki H, Palmetzhofer T, Koller U, Illmer J, Liemberger B, Hainzl S, Klausegger A, Reisenberger M, Lambert J, Van Gele M, Desmet E, Van Maelsaeke E, Wimmer M, Zauner R, Bauer JW, Wally V. Personalized Development of Antisense Oligonucleotides for Exon Skipping Restores Type XVII Collagen Expression in Junctional Epidermolysis Bullosa. 2021;22:3326.
Wimmer M, Zauner R, Ablinger M, Piñón-Hofbauer J, Guttmann-Gruber C, Reisenberger M, Lettner T, Niklas N, Proell J, Sajinovic M, De Souza P, Hainzl S, Kocher T, Murauer EM, Bauer JW, Strunk D, Reichelt J, Mellick AS, Wally V. A cancer stem cell-like phenotype is associated with miR-10b expression in aggressive squamous cell carcinomas. Cell Commun Signal 2020;18:61
March OP, Lettner T, Klausegger A, Ablinger M, Kocher T, Hainzl S, Peking P, Lackner N, Rajan N, Hofbauer JP, Guttmann-Gruber C, Bygum A, Koller U, Reichelt J. Gene editing-mediated disruption of epidermolytic ichthyosis-associated KRT10 alleles restores filament stability in keratinocytes. J Invest Dermatol. 2019 Aug;139(8):1699-1710.e6. doi: 10.1016/j.jid.2019.03.1146. Epub 2019 Apr 15.
Peking P, Breitenbach JS, Ablinger M, Muss WH, Poetschke FJ, Kocher T, Koller U, Hainzl S, Kitzmueller S, Bauer JW, Reichelt J, Lettner T, Wally V. An ex-vivo RNA trans-splicing strategy to correct human generalized severe epidermolysis bullosa simplex. Br J Dermatol. 2019 Jan;180(1):141-148. doi: 10.1111/bjd.17075. Epub 2018 Oct 7.
Wally V, Hovnanian A, Ly J, Buckova H, Brunner V, Lettner T, Ablinger M, Felder TK, Hofbauer P, Wolkersdorfer M, Lagler FB, Hitzl W, Laimer M, Kitzmüller S, Diem A, Bauer JW. Diacerein orphan drug development for epidermolysis bullosa simplex: A phase 2/3 randomized, placebo-controlled, double-blind clinical trial. J Am Acad Dermatol 2018;78(5):892-901.e7. doi: 10.1016/j.jaad.2018.01.019. Epub 2018 Feb 2.
Kocher T, Peking P, Klausegger A, Murauer EM, Piñón Hofbauer J, Wally V, Lettner T, Hainzl S, Ablinger M, Bauer JW, Reichelt J, Koller U. Cut and Paste: efficient homology-directed repair of a dominant negative KRT14 mutation via CRISPR/Cas9 nickases. Mol Ther 2017 Nov 1; 25(11):2585-2598. doi: 10.1016/j.ymthe.2017.08.015. Epub 2017 Aug 24.
Machado Y, Duinkerken S, Hoepflinger V, Mayr M, Korotchenko E, Kurtaj A, Pablos I, Steiner M, Stoecklinger A, Lübbers J, Schmid M, Ritter U, Scheiblhofer S, Ablinger M, Wally V, Hochmann S, Raninger AM, Strunk D, van Kooyk Y, Thalhamer J, Weiss R. Synergistic effects of dendritic cell targeting and laser-microporation on enhancing epicutaneous skin vaccination efficacy. Journal of controlled release : official journal of the Controlled Release Society 2017;266:87-99.
Kocher T, Asslaber D, Zaborsky N, Flenady S, Denk U, Reinthaler P, Ablinger M, Geisberger R, Bauer JW, Seiffert M, Hartmann TN, Greil R, Egle A & Piñón Hofbauer J. CD4+ T cells, but not non-classical monocytes, are dispensable for the development of chronic lymphocytic leukemia in the TCL1-tg murine model. Leukemia 2016 Jun;30(6):1409-13. doi:10.1038/leu.2015.307
Reviews
Ablinger M, Wally V, Zauner R, Wimmer M. Erforschung von miRNAs bei aggressiven Plattenepithelkarzinomen. Spectrum Dermatologie 2021;01:21-5.
Back to main navigation